Q. What do I do if I get the error, "This is an invalid account number, please try again or contact a store near you for help"
A. There are a few things to check. First check to make sure you have the proper account number put in. Second check the social security number you entered. If these are not accurate, you will get this error.
Q. What is my account number?
A. Your account number is the full number of your loan for the vehicle you have purchased from Superior Auto.
Q. Where can I get my account number?
A. You can get your account number several ways.
1. The easiest way to get your account number is off of your last receipt.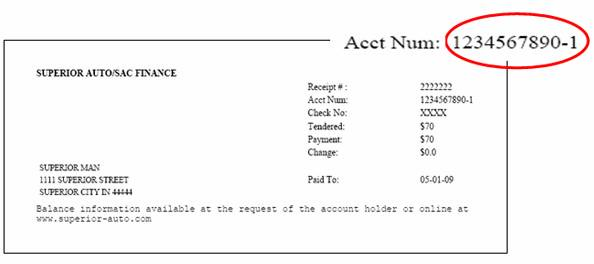 2. Loan paperwork.
3. By calling the location you make your payments at and they can give it to you.
The phone numbers of our locations are available at the website.
Q. What if my account number has X's at the beginning of it on the receipt?
A. If your receipt shows X's at the beginning of your account number, then you have one of our old receipts. To get your full account number, contact the location you make payments at and ask them to give you your full account number.
Q. Can I still register online without an email address?
A. In order to register online, you must have a valid email address.
Example: sampleemail@hotmail.com
Q. What if I do not have an email address?
A. There are several free email service available such as:
Hotmail: www.hotmail.com
Yahoo Mail: https://login.yahoo.com/config/login_verify2
Google Mail: www.gmail.com
Q. How long does my password need to be?
The password must be 8 to 16 characters in length, allowing upper and lower case letters, numbers, periods, and underscores.